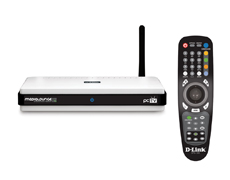 There is line of new products "coming soon" from Dlink. I'd like to emphasize one nice feature I missed long time and now model DPG-1200 has. Now You can connect cheap LCD monitor via regular VGA cable. Until now it wasn't possible because of missing VGA connector.

New remote has trackball and 2 buttons. So, navigating on TV screen is more PC-like.

Note, that DSM model name has been changed to DPG!?