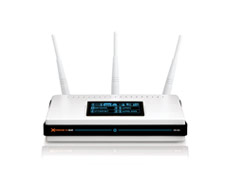 Some people heard already about new products, like D-Link Dual-band draft-N router and DSM-750 media receiver, having so-called draft-N wifi. What is it? How fast is it?
WiFi evolution:
1999 - 802.11 b - 11 Mbit/s, typically 6,5 Mbit/s
2003 - 802.11 g - 54 Mbit/s, typically 23 Mbit/s
2007 - 802.11 n - 540 Mbit/s, typically 200 Mbit/s
Today I link my media receiver to my media server via wired LAN to avoid problems in video streaming. Current WiFi speed is not enough to guarantee bandwith needed for DVD-quality or HD video, if base station is some 10 meters away. Lets hope, that draft-N aka 802.11n does the job.